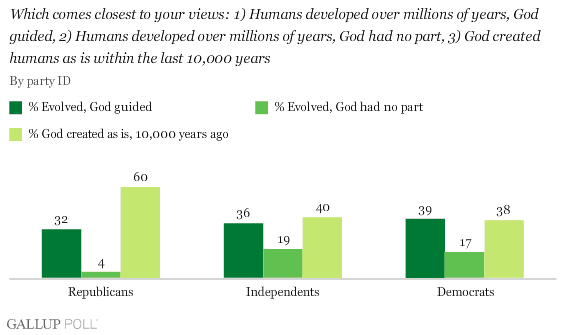 About a year ago, I wrote about a Gallup poll that showed that Murkins overwhelmingly believe that Jesus rode a dinosaur to work.
Another year, another poll, same result.
And democrats still have nothing to gloat about. Look at the percentage of rational people among them.
Amazing.
In case you were wondering, I say amazing because over here in Europe, numbers would probably be (at least) reversed, although we'll probably never know, because the last time anybody was questioned on the matter was probably during the Spanish inquisition or something (inquisitorial activity was definitively abolished in 1834).
So just like during the Cold War days when Europe was stuck between US & Soviet nukes, here we are stuck between christian & islamic nutjobs (although to be fair to the islamic nutjobs, their destructive potential is infinitesimal compared to their US buddies (yay, Murka, you're number one!)).